| | | |
| --- | --- | --- |
| | Starwheel Fine Art Prints | |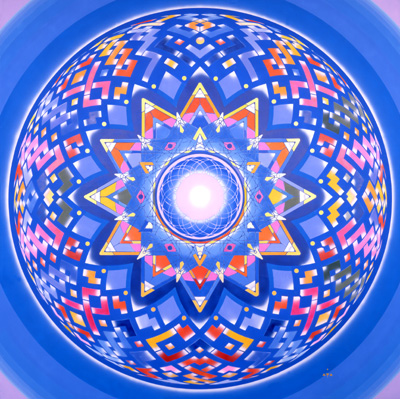 The Room of Ra is the King's Chamber.
You are the King - and the Queen,
re-united on the Sacred Throne,
at the center of the universe.
From your Eye of Ra, this is your spherical view
on the prolific Gardens you illuminate.
As the Sun-Source Aton-Ra,
your only purpose is to give out freely
the clear true Light that sustains Life.
At South, the now-friendly mask of Apophis,
the vibratory serpent guardian of the Kundalini.
At North, the symbolic Sekhmet,
the cat & lion Goddess,
daughter of the Sun God Ra
and mistress of the Dragon-Snake.
In the realm of the Solar Gate,
Beauty in the Heart upholds the Cosmic Tree.
Rising out of the night,
you cross the Grids of Dawn,
heralding a new Self.